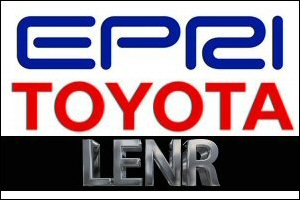 Sept. 24, 2012 – By Steven B. Krivit –
[This is the first of a four-part series.]
After a decade-long absence from low-energy nuclear reaction research, the Electric Power Research Institute in Palo Alto, Calif., has sponsored work in the field. Recent LENR work by researchers at Toyota Central Research and Development Laboratories in Nagakute, Aichi, Japan, shows that Toyota also is seriously interested in the field. Another Toyota subsidiary, Technova, has sponsored recent LENR research in Japan.
EPRI is an independent research company that provides technology, policy and economic analyses to its members. EPRI's corporate members include companies that produce 90 percent of the electricity generated and delivered in the United States; EPRI also has members in 40 countries.

Sorry, this content is for subscribers.
Already a subscriber? Login below…